| | |
| --- | --- |
| 22 December 2013 | Upholstery Cleaning Made Easy With Domestic Cleaners |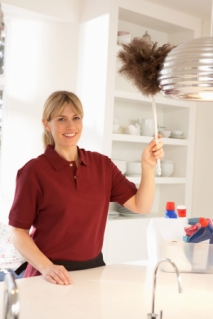 Getting a cleaner round to help with your home cleaning makes particular sense if you feel like there are more specialist jobs that need doing. Upholstery is a strange thing to clean, especially if the fabrics involved are expensive or particularly special. There is also the fact that certain upholstery can't be removed, so you have to worry about the techniques that you use, to avoid soaking the whole sofa! In many situations, there will be ways in which you can do things yourself, but it is almost always better to avoid the risk and get the upholstery cleaning service to have a look at the situation. Even if you do end up spending a little more on the service than you absolutely needed to, it is much better that way than having a go yourself and completely ruining a rare armchair! There are a few tips and tricks for things that you may be able to sort out yourself, and so that you can see how the professionals do it following, so have a look in to how it all needs to go down, and see how you want to play the upholstery cleaning game...
For a start, always proceed with caution. If in doubt, ring a professional. You know that your furniture looks great, so why risk it getting messed up and looking any less great? Delicate fabrics will always make for a beautiful living room, but you will no doubt find that they tarnish easily. Certain cleaning products will be suited for certain fabrics in the upholstery cleaning process, and you will need to be sure that you are not at any risk of letting the wrong chemicals touch certain fabrics. Pure cotton, wool, silk linen and many other materials should be treated with care, so that they are not marked irreversibly by the cleaning products. If in doubt, try a tiny amount of the cleaner on a small area of the material, preferably in a place that is not visible, like under the item of furniture, or on the flap at the back of an armchair or sofa.
In most instances, a cotton or polymer based material will take the majority of household upholstery cleaners, but you still have the issue of how to treat the fibers in the material. You will notice that using a rough sponge gives you enough abrasion to get the dirt moving, but be careful as to how much force you put in to it, as you will likely find that being too rough will lead to problems with breaking the fibers. In essence, you need to find that perfect cloth with the right force, alongside a great cleaner that is thorough yet gentle to the fabric.
As mentioned before in this writing, you should always consult a professional if there is any risk that you are going to mess up a precious item, or even if you are not in a position where you know whether to risk it or not! Doubt is something that you should listen to, and there are plenty of fantastic upholstery cleaners who can get your living room looking fantastic, through various techniques that come with a lifetime of experience. Many cleaning services will be able to do all sorts of different cleaning jobs that would have seemed really rather difficult to the regular person in a flash, as they are simply so well trained and experienced. There is no doubt that these cleaners are the ones who are going to get your place looking amazing with their domestic cleaning services!
You may also like: